Any Marylander knows the weather here can be unpredictable to say the least. And when your home's heat pump suddenly stops working in the middle of the frigid winter or won't stop running throughout the blazing summer, it can lead to a multitude of issues from an uncomfortable home to an uncomfortably high power bill. Depend on Constellation Home for expert heat pump installation and replacements. We have the experience and expertise to handle any job. And for your safety and comfort, we offer 24/7 emergency heat pump service.
What Is a Heat Pump?
A heat pump is a type of a heating and cooling system that is installed outside your home. In cooler months, a heat pump pulls heat from the cold outdoor air and transfers it indoors. And in warmer months, it pulls heat out of indoor air to cool your home. Because heat pumps can both heat and cool your home, they can be a very economical and efficient option. And heat pumps do not burn fossil fuel like furnaces do, making them more environmentally friendly.
Which Heat Pump is Right for Me?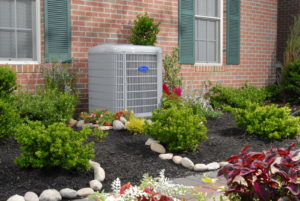 If you're looking to purchase a new heat pump, make sure you have a professional, like Constellation Home, guide you through the process. A heat pump that is the wrong size or not correctly installed can affect its efficiency and performance. If a heat pump is too small for the home, it will overexert itself. While a heat pump that is too large for the home can short cycle, which causes unnecessary wear. To learn more about finding the right heat pump for your home, view our Heating and Air Conditioning Buying Guide.
One of the primary benefits of using a heat pump is the efficiency of the unit. Make sure you have a Constellation Home heat pump expert help you find the correct heat pump for your home.
Why Constellation Home?
Constellation Home has been making Maryland homes more comfortable for nearly 30 years. We know that your heating and cooling system is your home's largest energy user. Our team of certified professionals will help you find the perfect heat pump to fit your needs and your budget. We'll show up on time, in uniform to assist you with every step, from selection through installation. We provide heat pump installations throughout central Maryland, including Anne Arundel County, Baltimore County, Carroll County, Cecil County, Frederick County, Harford County, Howard County, Montgomery County, and Prince Georges County.