Constellation provides heat pump replacement and installation to homeowners throughout the greater Houston, Texas area. Our team of professionals is licensed, certified and highly-trained in providing expert heat pump replacement and installation services. If it's time to replace your home's heat pump, contact us today.
Heat Pump Replacement and Installation
Although heat pumps look like an outside air conditioner, they are capable of both cooling and heating your house. Heat pumps in Texas are used year-round and can often be an economical and efficient heating and cooling option, especially for Houston homeowners who use electricity as their main source of energy.
Are you considering a heat pump replacement for your home? The team at Constellation has the experience and expertise you need to help find a solution that suits your budget and your needs. Request a free in-home estimate today, and an Energy & Comfort Consultant will contact you within one business day.
When you have a complete heat pump replacement installed by Constellation, you will receive:
Savings of up to $3,000 on select high-efficiency systems
Upfront Pricing
No Hidden Fees
Our 100% Satisfaction Guarantee
No Interest for 36 Months†Available
Your cooling and heating system equipment consumes more energy than any other equipment in your home. When choosing a heat pump replacement, energy efficiency should be a main factor in your decision. Constellation's experienced Energy & Comfort Consultants can help you select an energy-efficient heat pump that can also accommodate your budget and lifestyle.
Heat Pumps: How They Work
Even though heat pumps look similar to air conditioning units, they perform both heating and air conditioning functions.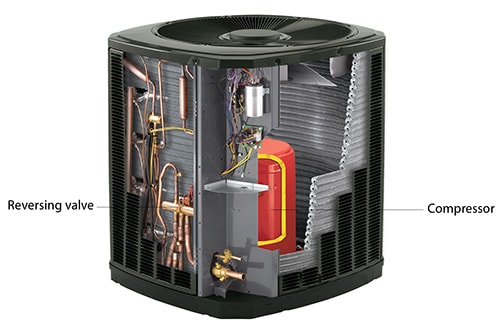 To cool: A heat pump has an outdoor compressor that pumps refrigerant to the evaporator coil in your indoor air handler. Warm air is pulled from inside the house through the air ducts to the evaporator coil. The air is cooled as it moves across the coil can then be distributed through the home. The heat dissipates in the outside compressor.
To heat: The above process is reversed – cool air is brought outside, heated, and redistributed through the house via the air ducts.
In both functions, the reversing valve switches the flow of refrigerant to either cooling or heating mode, based on how you set your thermostat.
The process is similar to that of a split system, but heat pumps are self-contained and there is no indoor unit.
Efficiency & Savings
Always take your potential energy cost savings into consideration when reviewing your heat pump replacement options. Today's heat pumps are far more efficient than the models manufactured five to ten years ago, so replacing an old unit is likely to be a cost-effective decision. Our Air Conditioning and Heating Buying Guide provides more information on energy efficiency ratings and how you can take advantage of new technologies to potentially reduce energy costs.
†The Carrier® credit card is issued by Wells Fargo Financial National Bank, an Equal Housing Lender. Special terms apply to qualifying purchases of $2,000 or more charged with approved credit. The special terms APR will continue to apply until all qualifying purchases are paid in full. The monthly payment for this purchase will be the amount that will pay for the purchase in full in equal payments during the promotional (special terms) period. The APR for Purchases will apply to certain fees such as a late payment fee or if you use the card for other transactions. For new accounts, the APR for Purchases is 28.99%. If you are charged interest in any billing cycle, the minimum interest charge will be $1.00. For current information, call us at 1-800-431-5921.