Everyone tries to keep their home as clean as they can, but what about the places you can't see? Harmful contaminants and allergens such as pollen, dust, pet dander and mold can build up inside your air duct system. It doesn't take long for it to become a breeding ground for fungus, bacteria and mildew. Once this happens, you can pollute your indoor air each time your HVAC system runs.
Don't go another day with a dirty duct system. Constellation Home can remove harmful air duct contaminants. We also create a healthier breathing environment and help restore your heating and air conditioning system capacity, which increases its efficiency and saves you money.
How It Works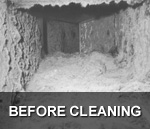 Constellation Home will clean your entire duct system using the most advanced source-removal system available — the HEPA-AIRE method. This technique is often seen as the most significant breakthrough in duct-cleaning technology over the past three decades.
The most essential elements of this system are the patented HEPA-AIRE portable power vacuum and the AIR-SWEEP® compressor. By blowing high-pressure air through your vent system, starting from the furthest point out and working towards the furnace, our technicians can clean your entire duct system with less noise and disruption.
Benefits of Duct Cleaning
According to the Environmental Protection Agency (EPA) bad indoor air quality is a threat to your family's health. And the average home collects an astounding 40 pounds of dust per year.
The accumulation of harmful contaminants in your ducts can manifest in several ways:
Your family members suffering from allergies or respiratory problems
Unusual odors when your HVAC is on
Visible buildup in your vents
The need to dust more often
Consider Constellation Home's Air Duct Cleaning Service if:
Someone in your home suffers from allergies, headaches, nasal congestion, asthma or other respiratory problems
You have pets
You notice bad odors when the furnace or air conditioner runs
There is a smoker in the house
There is a lack of airflow from your vents
Efficiency & Savings
As harmful contaminants accumulate, the efficiency of your heating and air conditioning system may be reduced. A clogged air duct system makes your heating and air conditioning system work harder and use more energy. Air duct cleaning from Constellation Home not only improves the quality of air inside your home, it actually increases the efficiency of your heating and air conditioning equipment.
Cleaning your air ducts at least once every five years also increases your HVAC system's lifespan. Once you have had your ducts professionally cleaned, you might want to consider a whole house electronic air cleaner to keep your indoor air quality at an optimum level.
Choose Constellation Home
To schedule your duct cleaning, call 888-243-4663 or request an estimate online. We service all of central Maryland,  including Baltimore City, Baltimore County, Montgomery County and Frederick County.